The Appaloosa Horse Club BOD has voted in a new ruling that has many Appaloosa breeders and owners up in arms and boiling mad. This ruling was first passed at the last BOD meeting in July, and came up for final approval in March 2010 with many BOD members missing and unable to even vote on the proposal because they needed to catch a plane home.

July 2009

But this motion was introduced after several directors left for the airport.

BOD Motion 39-07-09: The ApHC Board of Directors moves to amend Rule 204 with the addition of section C, as follows: C. Horses that are parentage verified by genetic testing as having both parents registered as listed in ApHC Rules 204.B.1.,2. and 3., but that do not have at least one parent with an ApHC registration classification of Regular (#) per ApHC Rule 204.A.1., and that would otherwise meet the requirements for Regular registration classification, and are not ineligible for ApHC registration as stated in ApHC Rule 205 titled "Horses Not Eligible Registration," may be considered for ApHC registration on a case-by-base basis by the registrar. Horses that are not registered with an ApHC-approved breed association must adhere to ApHC registration procedures.

Made by Diane Rushing, seconded by Ray Burchett.

Passed.

This motion will be considered as an Approval Motion at the March

2010 ApHC Board of Directors meeting.

Chuck McWhirter, President; Larry Baker, Yes; Steve Bennett, Absent; Ray Burchett, Yes; Gene Carr, Absent; Dennis Dean, Absent; Jason Flinn, Absent; Monty Holmes, Yes; Jim Jirkovksy, Yes; Frank Larrabee, Absent; Laura Lyon, Absent; Sharon Marshall, Absent; Sandra Matthews, Yes; Tracy Meisenbach, Absent; Diane Rushing, Yes; Connie Taylor, Yes; Bill Thiel, Absent; Lynette Thompson, Yes; Jack Zuidema, Yes.
What this rule means is that any horse from the three allowable cross breeds (Thoroughbred, Arabian or Quarter Horse) that exhibits Appaloosa characteristics such as mottle skin, stripped hooves, white sclera or even a coat pattern that appears to be a visible appaloosa pattern is now fully registerable as a regular papered appaloosa with full breeding rights.
So a horse that looks like this: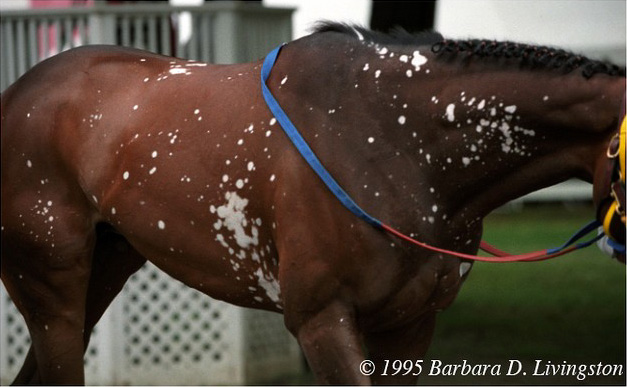 What you see above are NOT appaloosas, you see one registered Thoroughbred, two registered Arabians and two registered Quarter Horses. According to the ApHC's new ruling, any one of these horses MIGHT be eligible for FULL registrations rights in the ApHC.
IS the ApHC a breed Registry with a color preference or a Color Registry?
Why should we register allowable cross breed horses with full show and breeding rights as an Appaloosa just because they have Characteristics that an appaloosa would have?
Does the Arabian Horse registry allow outside horses with no Arabian parents to be registered as Arabians just because they look like an Arabian ? NO they don't!
Does the Jockey Club allow the registration of outside horses that LOOK like a Thoroughbred to be fully registered and compete in Races? NOPE Again!
Does the American Quarter Horse Association allow the registration of horses that look like a Quarter Horse but don't have Quarter Horse parents to show or compete? NO! NO! NO!
NOT one of our allowable cross breed associations would allow one of our solid Appaloosa foals to be registered with their association with full breeding rights and show rights (Arabian Half breed registry excluded) So WHY are we allowing THEM into our Registry with full breeding rights?
If you want to learn more check out this facebook page